Public Disgrace Deal
Activate Deal
---
86% off Public Disgrace Coupon
63% off at $14.95 for 30 days or 86% off at $0.49 Daily for One Year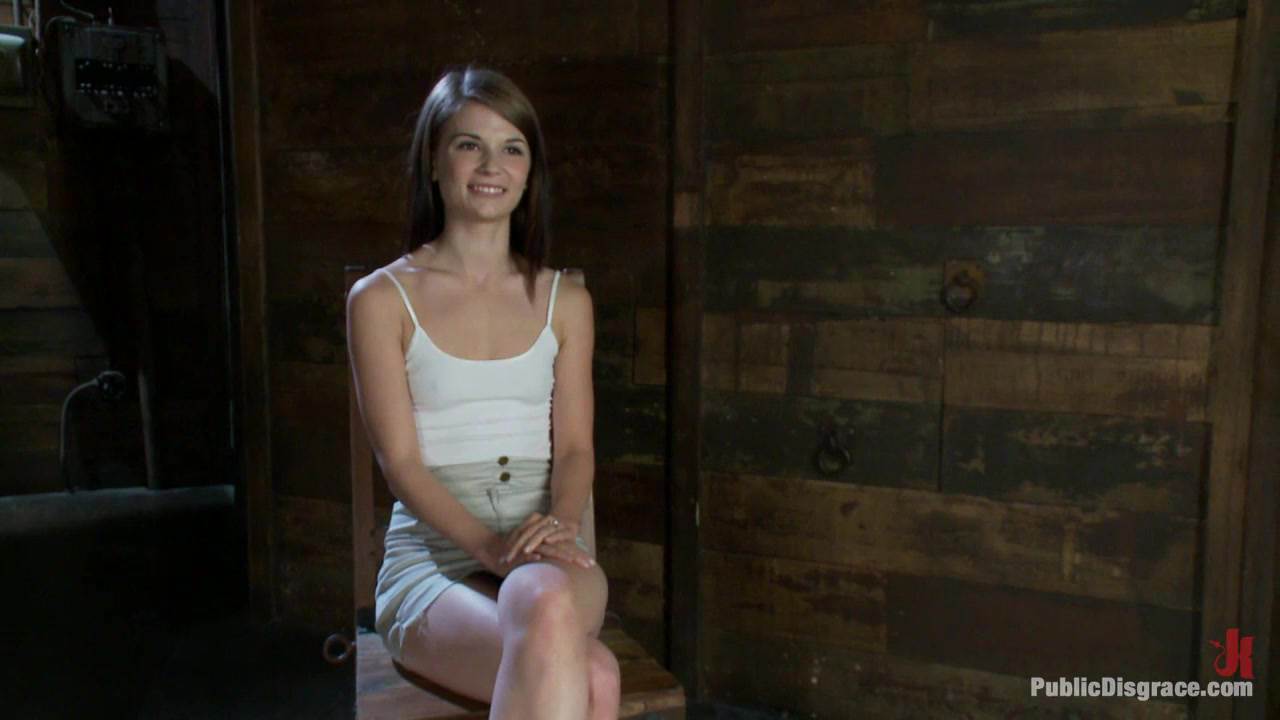 PublicDisgrace voyeur and public humiliation porn are all about submissive ladies bound stripped and punished publicly. This pornsite belongs to the Kink.com Network. The description that this site gives you when you visit the tour page is fine, but it's not exactly a description that covers all the aspects of this pornsite. The truth is that every single video on this website follows the general public sex and BDSM themes, but yet every video inside is different in terms of action and how it will make you feel. How do they manage to do this? They do it by casting Different performers, different male doms and female dominatrices, and different crowds/audiences/bystanders/tourists who either animatedly watch the humiliation and sexual domination of submissive sluts, or participate.
The main storyline for the movies is the parading of a submissive female model in the streets, bars, restaurants, public toilets, or anywhere else outside where a crowd can be gathered. The submissive is accompanied by two or more male and female controllers who are in charge of the overall disgrace and sexual satisfaction through pain bondage and humiliation. The beautiful submissive obeys all commands and is taken to crowds of bystanders and strangers who immediately start fingering, fucking, slapping, biting, sucking, spitting on, and cum on the submissive, in scenes that take more than one hour. Somehow, the female/male controllers manage to incorporate the participation of large crowds, and even when it gets rowdy and chaotic, they still maintain a tight grip on the submissive and the action going on.
The female submissive models also have to deal with machines that send electrical shocks to their nipples and clits, rope bondage and suspension, sex toys and vibrators, dildos, whips and canes, and ball gags, among other implements of pain-pleasure that Kink.com is known for. Things can get unbelievable at times, for example, there is one scene staring Mona Wales where after a long session of rough humiliation sex in the public toilet, she gets taken to Folsom Street where she is further pleasured and punished in front of hundreds, it's a wild scene! It must take a lot of resources and planning to shoot even one film, but this Public Disgrace coupon has been able to come with 466 movies as of January 2019 which is the date of the last update.
Yes, it seems that production has stopped, but, the films are long affairs, the longest being 102 minutes, the shortest some 20 minutes. To help convince you to join, in case you are mad that this pornsite no longer produces, membership includes a bonus from Kink.com Network. The bonus means you will have thousands of the best alternative hardcore BDSM, femdom, fetish, and gay, movies, and models to watch. The site has mp4 files for downloading, and HD resolution quality plus video capture that act as the picture album.
Final Thoughts
The videos come with descriptions and a litany of informative links including members' comments and ratings. The site is mobile device optimized. the site is a user-friendly platform that has a ton of navigational options. Furthermore, there's the Kink.com community that's always active that you can join, live cams, a store, FAQ, BDSM resources, and more. with Public Disgrace, and generally from Kink.com, you will always get more and more and more, they never stop they never rest!